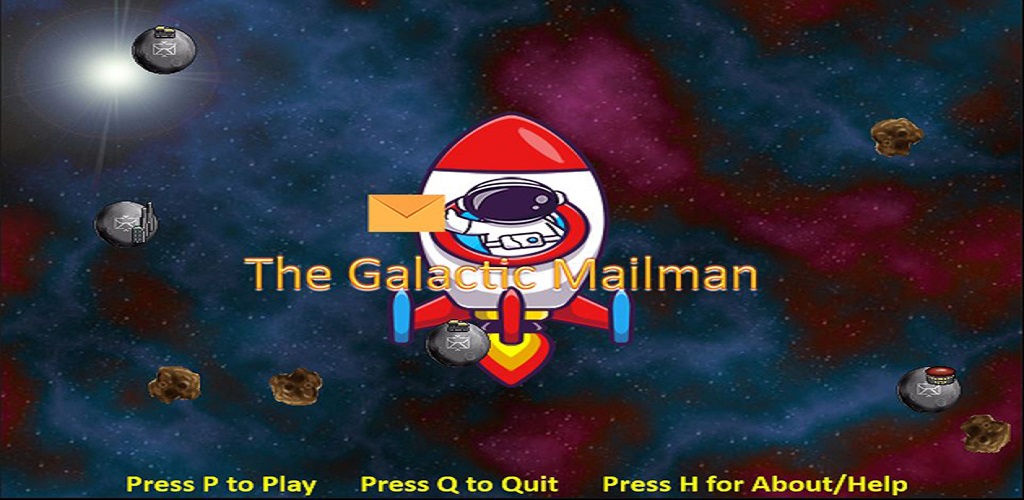 The Galactic Mailman
A downloadable game for Windows
"The Galactic Mailman" is a remake of the "Galactic Mail" game in the "The Game Maker Apprentice: Game Development for Beginners" book.

The book showed how to make games with Game Maker 8.0's simple drag-and-drop interface.
"The Galactic Mailman" was made with Game Maker 2.0 GML Visual(drag-and-drop). I was able to reproduce much the GM 8.0 drag-and-drop in GML Visual. To recreate the high score I had to use the asset pack "High Score Table for Game Maker Studio 2" I had to tweak it for this game. The original game had 3 levels. I have add two more levels with faster-moving asteroids, smaller moons, larger planets and smaller planetoids.
FROM "The Game Maker's Apprentice" book
The example games in this book have been brought to life with graphics and illustrations by real games industry artists. Furthermore, you can use all the professional resources provided on the CD in your own GameMaker projects with the blessing of the publisher and authors.
Astronaut Riding Rocket Image by catalyststuff on Freepik

====================
You play an intergalactic mailman who must deliver mail to a number of inhabited moons. You must safely steer a course from moon to moon while avoiding dangerous asteroids, large planets and smaller planetoids You are paid for each delivery you make, but pay is deducted for time spent hanging around on moons. This adds pressure to the difficult task of orienting his rickety old rocket, which cannot steer very well in space.
Controls:
While you are on a moon:
<Left> rotate launching direction counter-clockwise
<Right> rotate launching direction clockwise
<Space> launch the rocket
While in space:
<Left> rotate direction of motion counter-clockwise
<Right> rotate direction of motion clockwise
Install instructions
Download the zip file.
Extract the files.
Run "The Galactic Mailman.exe"
Note: you may get a "publisher could not be verified" message - just click run.